Home
»
MOL2NET
» Section 13: MODEC01: Workshop on Natural Products and Agro-Industrial Procesess in Amazon, Ecuador, 2016
MOL2NET 2016, International Conference on Multidisciplinary Sciences, 2nd edition
This conference is organized by Humberto González-Díaz, IKERBASQUE Professor. Sciforum is not responsible for the content posted on this website.
13: MODEC01: Workshop on Natural Products and Agro-Industrial Procesess in Amazon, Ecuador, 2016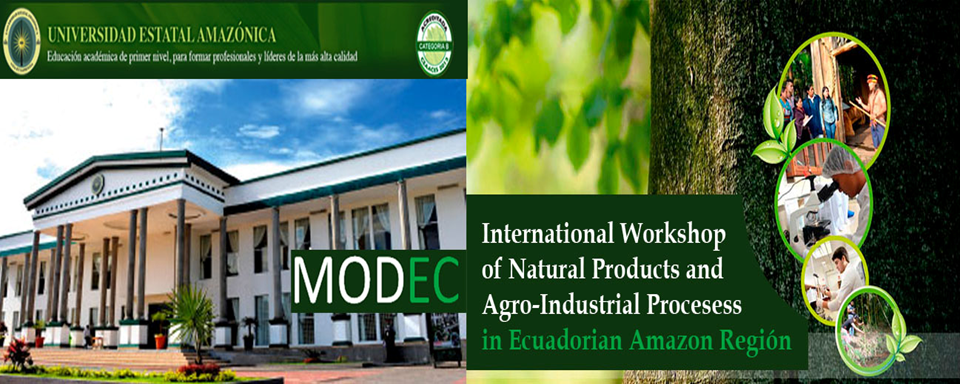 MODEC 2016 (Submissions Open)

MODEC2017, International Workshop on the Natural Products and Agro-Industrial Processes in Ecuadorian Amazon region
Welcome to the MODEC2017 workshop. This is Amazon State University's (UEA) first workshop, devoted to the promotion and application of the Multidisciplinary Sciences to the development of natural products and agro-industrial processes in Ecuadorian Amazon regions. This includes the application of Information and Communications Technologies (ICTs) for data analysis and computational model including the fields of Agro-industrial Engineering, Chemistry, Chemical Engineering, Biotechnology, Veterinary Medicine, and/or Environmental Sciences, etc.
This workshop runs both online and on location at the university. The online portion of the workshop is powered by the SciForum platform of MDPI, hosted by the MOL2NET International Conference on Interdisciplinary Sciences. Additionally, the physical component of the workshop is also scheduled to run through the Department of Earth Sciences (Facultad de Ciencias de la Tierra) at Universidad Estatal Amazónica (UEA), Puyo, Ecuador. Please, contact the workshop chairmen for further details. Paper submission is already open and the publication of papers for conference purposes in SciForum platform is free of cost.
Publications are expected to be short papers consisting of 1-3 pages. Be aware that the submission is a two step process. First you must register and submit a tentative title, authors list and abstract. Next, you need to submit your full publication upon acceptance of the abstract by the committee. Full publications will be published online, free of charge, with doi number as soon as possible after acceptance. If you are planning to submit a publication, please use the following template, MODEC Template.doc. Click on the following link to register and/or submit your communication Sumit to MODEC here.
All submitted papers should fall under one of the following categories:
Computational chemistry, Cheminformatics, and Bioinformatics
Mathematical modeling
Organic and Functional Foods
BioTrade: Natural Products of the Amazon
Production systems with agro-business and forestry purposes or biomass for energy purposes
Environmental impacts
Agro-industrial development processes
All summaries should be sent no later than November 25, 2016. The acceptance of a publication will be given December 15, 2016 and completed papers need to be submitted by January 15, 2017. Final acceptance of the finished paper will be given on January 30, 2017 and papers will be published on February 1, 2017. Please, click the following link to read the editorial paper with welcome message and call for papers as well as the full description of the workshop with details of topic, short biographies of the members of the committee, contact details, personal pictures, etc., [Workshop Editorial & Full Committee]
Chairperson
Prof. Amaury Pérez Martínez received his Bs. in Chemical Engineering in 2002, his MSc degree in Chemical Engineering Processes and Analysis in 2007, and his PhD degree in Chemical Engineering in 2013. He has worked in the development of new technology in the Chemical Industry. Currently, he is an Assistant Professor of Agro industrial Engineering at Amazon State University in Puyo, Ecuador. His research interests include philosophy of process design, simulation, and sustainable development
Institution: Universidad Estatal Amazónica, Ecuador
Email: amperez@uea.edu.ec
List of Abstract, Short Proceedings Paper Papers (DOC, DPF), Presentation, Poster, (PPT, PDF)s (22)
List of Accepted Abstracts (1)