Home
»
I3S 2018
» Session SPINTECH: SPINTECH Technology Thesis Awards
6th International Symposium on Sensor Science (I3S 2018) and 4th SPINTECH Technology Thesis Award
SPINTECH: SPINTECH Technology Thesis Awards
This award is organized by Prof. Chien-Hung Liu. Sciforum is not responsible for the content posted on this website.
SPINTECH Technology Thesis Awards Session (for Authors who attend SPINTECH Awards Competition, the abstract deadline is 30 April 2018)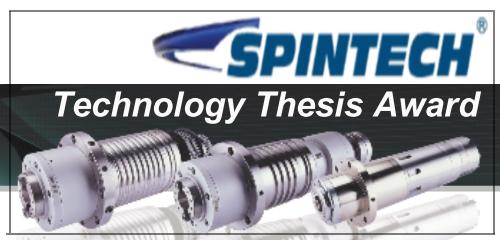 SPINTECH Technology Thesis Awards collocated with I3S2018
Introduction
Spintech Precision Machinery Co., Ltd.
"Let Your Industry Revolve Around Us" is SPINTECH's commitment to customers. Supplying suitable products and services, striving to satisfy our customers, and keeping up-to-date with cutting-edge development, quality has always been SPINTECH's priority. In order to contribute towards the progress of applied science and engineering technology, promote an atmosphere of industry–academic cooperation, and encourage outstanding individuals to join R & D work to effectively integrate theory and practice, we have established a basis on which the industry can develop. The SPINTECH Technology Thesis Award will give rise to talented people in the mechanical industry whilst giving contestants the opportunity to improve their research abilities. Through this award, we enable the cooperation and exchange of ideas between industry and academia.
The themes of the competition include "Recent Trends in Energy and Bio-/Nano-materials", "Recent Trends in Smart Machine", "Artificial Intelligence", "Recent Trends in Smart Sensors", and "The Innovative Application of High Speed Spindle".
Potential topics include, but are not limited to, the following:
(1) Modeling and computing technology
(2) Smart machines and systems
(3) Nanotechnology
(4) Biotechnology
(5) Smart material
(6) Smart devices
(7) Smart energy system
(8) Smart sensors and actuators
(9) Smart instruments
(10) Intelligent control systems
(11) Smart design technology
(12) Smart information and communication systems
(13) New physical or chemical experiments and analysis
(14) New key industrial technologies
The manuscript must be written in English.
Applicant Requirements
The originality of the thesis
a. Innovative technology
b. Original and groundbreaking theory
High academic and applied value
a. Theoretical derivation or model construction
b. Prototypes of experiments or the establishment of systems
c. The promotion of engineering technical standards
d. Domestic invention of novel technology
Framework and organization of your article
The completeness of the references, the suitability of the framework, the methods of approach, as well as the validity of the figures and data will be taken into consideration.
a. Please write your abstract first for initial consideration
b. If your abstract is accepted, the minimum length of your final paper is six pages
c. The template package for full papers can be found at Click
In addition, we will group participants according to their schools into two groups (University/Technological University or Institute of Technology), and also provide two sets of prizes and monetary awards.
This year, there are three prizes and several Honorable Mentions to be won in each group (University/Technological University or Institute of Technology). Also, the Fine Creation Award goes to every candidate who is nominated to the finals. The instructors of winners will receive a certificate of merit. The certificates of merit and the monetary awards will be mailed and wired to winners after the Presentation ceremony.
Monetary Award

For Advisors

For Students

Gold Medal

80,000NTD (approximate
to 2,240EUR)

20,000NTD (approximate
to 560EUR)

Silver Medal

35,000NTD (approximate
to 980EUR)

15,000NTD (approximate
to 420EUR)

Bronze Medal

17,000NTD (approximate
to 476EUR)

8,000NTD (approximate
to 224EUR)

Honorable Mention

5,000NTD (approximate
to 140EUR)

5,000NTD (approximate
to 140EUR)
Gold Medal Award: a certificate of merit and monetary award.
Silver Medal Award: a certificate of merit and monetary award.
Bronze Medal Award: a certificate of merit and monetary award.
Honorable Mention: a certificate of merit and monetary award.
Fine creation Award: a certificate of merit.
The bank's transaction fees will be deducted before monetary awards are wired to the winners in accordance with the amount of New Taiwan dollars. Due to the currency rate fluctuating daily, the final total that winners receive may vary slightly.
History
Last year, SPINTECH Technology Thesis Awards collaborated with the 2017 International Conference on Inventions (Sun Moon Lake, Taiwan)—it was an outstanding success. The technology thesis awards went to many potential scholars and students in the field of technological research.
The Number of the Prizewinners

2011

2012

2013

2014

2015

2016

2017

Gold Medal

1

3

3

4

3

3

3

Silver Medal

1

4

3

4

3

3

3

Bronze Medal

1

2

4

7

4

4

4

Honorable Mention

8

9

15

20

8

14

16
List of Accepted Abstracts (1)
Tailored Nanostructures for CO2 Gas Sensing Applications