Home
»
MOL2NET-03
» Section 14: UCHCEUW-14: 14th UCH-CEU Workshop on Multidisciplinary Sciences, UCH, Valencia, Spain, 2017
MOL2NET 2017, International Conference on Multidisciplinary Sciences, 3rd edition
This conference is organized by Prof. Humbert González-Díaz. Sciforum is not responsible for the content posted on this website.
14: UCHCEUW-14: 14th UCH-CEU Workshop on Multidisciplinary Sciences, UCH, Valencia, Spain, 2017
UCHW01: UCH Workshop on Multidisciplinary Sciences, Valencia, Spain, 2017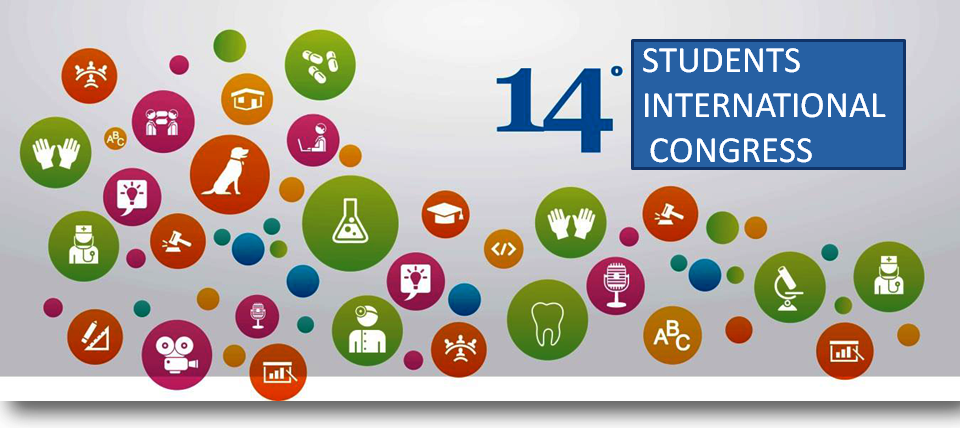 Dear all we are glad to welcome you to the WUCH01: UCH Workshop Series on Multidisciplinary Sciences, Valencia, Spain, 1st edition. This is one scientific conference series for professors, researchers, and young scientists; with special emphasis on the active participation of graduated students of the CEU Cardinal Herrera University (UCH), Valencia, Spain. The main source of papers of this workshop are the results presented by the professors and students of the UCH on their 14th Students International Congress. This congress was hold in person on July 2016 at UCH, Montcada, Valencia, Spain.
However, the workshop also welcomes online participation (posts) and/or submissions (2-3 pages long communications) from all colleagues worldwide to be published online. The submission is open and the publication of communications will be ASAP after acceptance, all the year; to submit a communication use the Submission link. After you successfully register, you can submit your paper online. You need to register and send your abstract first. For more details please contact the chairperson of this workshop by email. This is workshop is associated to MOL2NET-03 International Conference on Multidisciplinary Sciences, MDPI Sciforum, Switzerland, HQ UPV/EHU, Bilbao, Spain.
Be aware:
on step 1, you should select MOL2NET 2017, International Conference Series on Multidisciplinary Sciences, 3rd edition
on step 2, you should select Section: UCHW01: UCH Workshop on Multidisciplinary Sciences
Publication Model and Authors Responsibility:
Before to submit your work be aware that the editorial process is the same than for a PREPRINT service. Therefore, all works receive doi number and are indexed in databases (GoogleScholar, Publons, etc.). However, the works published here are preliminary communications and not post-print journal papers. In this sense, committee and/or external reviewers check only scope and apparent scientific soundness. The works may receive also comments from registered participants (public post-publication review). The authors are encouraged to submit their works to a peer-reviewed scientific journals of MDPI or other editorials during or after finalization of the conference, as per SciForum copyright rules.
In any case, it is the responsibility of the authors, to ensure the veracity of the contents, checking similarity to other works, and carry out a proper citation of previous works. The committee is not responsible of this previous aspects in this publishing modality. In this sense, we strongly recommend the authors to use online text-similarity checking services to avoid any form of plagiarism or copyright violation. Some workshops in this conference series use specialized services to checked for possible text similarity. For instance, MODEC is using the official account of their organizing university for URKUND web server. Please, be aware that the authors may be requested to modify (re-write their texts) the communication in the case that high similarity is detected and reported to the committee. In these cases, the manuscript could temporarily withdrawn until the authors re-submit the proper version. The authors are also allowed to submit short reviews, comments, letters, or discussions of papers already published if they guarantee sufficient difference to previous public contents.
Steering Committee
Online Workshop Chairperson:
Prof. María Auxiliadora Dea Ayuela
Department of Pharmacy, Coordinadora de Titulación de Grado, Grado en Nutrición Humana y Dietética - Seminario Salud Avda. Seminario s/n. 46113 Moncada - Valencia, Telf. 96 136 90 00 | Ext. 61572, Email: mdea@uchceu.es
Institutional Chairpersons:
Dª. Mª José González Solaz, Vicerrectora de Estudiantes y Vida Universitaria
D. Ignacio Pérez Roger, Vicerrector de Investigación
Organizing Committee
Dª. Ruth Abril Stoffels
Dª. Sara Barquero Pérez
Dª. Milagros Benito Hernández
Dª. Sonia Cervera Estela
D. Benjamin Dieu
Dª. Mª Auxiliadora Dea Ayuela
D. José Luis del Amo Naranjo
Dª. Mª Rosario García Bellido
D. Javier García Gramaje
D. Alberto Giménez Sancho
Dª. Sara Gómez Gázquez
Dª. Sara González Sánchez
Dª. Mariam Ibáñez Company
Dª. Marina Leal Clavel
Dª. Arlinda Luzi Luzi
Dª. Esmeralda Martínez Argilés
Dª. Mª Teresa Mercado Sáez
D. Enric Poch Jiménez
Dª. Isabel Serra Guillén
D. Chirag Charndrakant Sheth Shah
Dª. Aloma Tadea Mayordomo Febrer
Dª. Laura Valls Navarro
Dª. María Amparo Vila Caballer
Scientific Committee
MEDICINE
 Mariam Ibáñez Company
 María Amparo Vila Caballer
 Rosa Lopez Pedrajas
 Paula Sanchez Thevenet
 Jose Antonio Costa Muñoz
 Antonio Rafael Barrasa Shaw
 Verónica Veses Jiménez
 Gonzalo Rafael Haro Cortés
 Desamparados Navea Tejerina
 José Vicente Amaya Valero
 María Aracely Calatayud Pascual
PHARMACEUTICAL SCIENCES
 María Auxiliadora Dea Ayuela
 Enric Poch Jiménez
 Marta Marín Vázquez
 Isabel Guillen Salazar
 Pedro Alemán López
 Lourdes Bosch Juan
 Mª Dolores Guerrero Masiá
 Antonio Blanquer Hernández
 Eugenia González Rosende
 José Vicente García Matero
NURSING
 Isabel Serra Guillén
 Jose Vicente Carmona Simarro
 Carmen Trull Ahuir
 Marina Leal Clavel
 Carmen Rocamora Rodríguez
 Noelia Rodriguez Blanco
 Loreto Peyró Gregori
 Elena María Esteve López
ODONTOLOGY
 Arlinda Luzi Luzi
 Chirag Charndrakant Sheth Shah
 Salvatore Sauro
 Marta Ribelles Llop
 Raquel González Martínez
 Juan Manuel Nuñez Martí
 Pablo Fos Galve
 Mar Jovani Sancho
 María Clara Furió Sabater
VETERINARY MEDICINE
 Milagros Benito Hernández
 Aloma Mayordomo Febrer
 Begoña Ballester Lurbe
 David Viana Martín
 Empar García Roselló
 Mª Estrella Jiménez Trigos
 Jaume Jordá Vicent
 Milagros Mateos Otero
 Jesús Cardells Peris
 Ángel Hernández Guerra
 Jordi López Ramón
 Katiuska Satué Ambrojo
 María López Murcia
 Jon Romero Aguirregomezcorta
PHYSIOTHERAPY
 Javier Martinez Gramage
 Pablo Salvador Coloma
 Gemma Biviá Roig
 Vicente Benavent Caballer
LAW, POLITICAL SCIENCES, AND BUSINESS
 Ruth Abril Stoffels
 Maria Pilar García Alcober
 Marta Pérez Gabaldón
 Juan Martínez Otero
 Francisco Suay Pérez
JOURNALISM, MARKETING, PUBLICITY, COMMUNICATIONS
 Maite Mercado Sáez
 Mª Pilar Paricio Esteban
 Begoña Siles Ojeda
 Ángel Javier Castaños Martínez
 María José Pou Amérigo
EDUCATION
 María Rosario García Bellido
 Fernando Serrano Pelegrí
 Margarita Fernández Romero
 Francisco Pardo Fabregat
 Ana Elisa Esteve Pastor
 Enrique Cerezo Herrero
 Néstor Alonso Villodre
 Santiago Celestino Pérez Jiménez
 Jacobo Nogueruela Avellà
 Helena María Pascual Ochando
 Mónica Belda Torrijos
 Jaime Vilarroig Martín
 Carmen María Muñoz Herrera
 Núria Andreu Ato
 Alberto Zapatera Llinares
ESET
 Alberto Giménez Sancho
 Alfonso Diaz Segura
 Sara Barquero Pérez
 Pedro Verdejo Gimeno
 Teresa Ferrer Dasí
List of papers (4)
List of Accepted Abstracts (8)