Home
» IECG
1st International Electronic Conference on Geosciences
Welcome from the Conference Chair of 1st International Electronic Conference on Geosciences
I am pleased to announce that the 1st International Electronic Conference on Geosciences (IECG 2018) will be held online from 15 to 30 June 2018. This electronic conference offers a forum for researchers engaged in the study of all interdisciplinary aspects of the earth and planetary sciences to present their research and exchange ideas with their colleagues. This online conference will allow you to participate without having to leave home saving you time, travel and participation expenses while at the same time gaining new information on current research in geosciences.
This electronic conference concerns all subjects covered by the journal scope of Geosciences (http://www.mdpi.com/journal/geosciences/about). In this first edition, the following selected themes will be covered more specifically:
This is a virtual conference held at www.sciforum.net/. Sciforum.net is a platform developed and sponsored by MDPI to organize electronic conferences, and to provide our community with technical support for hosting digital conferences.
Participation is free of charge—both for authors and attendees. Selected papers will be published in the Special Issue "Selected Papers from the 1st International Electronic Conference on Geosciences" in Geosciences. Geosciences (ISSN 2076-3263) is an international, peer-reviewed, open access journal of geoscience, future earth and planetary science, published monthly online by MDPI. It has been covered by some important databases, such as Emerging Sources Citation Index (ESCI)—Web of Science (Clarivate Analytics), Scopus (Elsevier), GeoRef (American Geosciences Institute), AGORA (FAO), CAS—Chemical Abstracts (ACS) and DOAJ—Directory of Open Access Journals. We have a citescore of 1.67 in Scopus and currently rank Q1 in Earth and Planetary Sciences (miscellaneous) in SCImago.
I am looking forward to participating in exciting discussions, hearing new ideas and perspectives in the field, and welcoming all participants to the online conference.
Kind regards,
Prof. Dr. Jesus Martinez-Frias
Chair of the 1st International Electronic Conference on Geosciences
Editor-in-Chief of Geosciences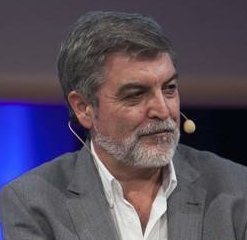 Prof. Jesús Martínez Frías
Prof. Jesús Martínez Frías, PhD (Complutense University of Madrid/1986) did several stays of research in the UK (University of Leeds), Canada (University of Toronto), Germany (University of Heidelberg) and the USA (University of California). He is Scientific Researcher at the Geosciences Institute, IGEO (CSIC-UCM); Honorific Professor at the Bioengeneering and Aerospace Engineering Department of the Universidad Carlos III de Madrid; Head of the Research Group of Meteorites and Planetary Geosciences and founder; and Director of the Spanish Planetology and Astrobiology Network (REDESPA). He has participated in more than 40 projects and scientific campaigns (e.g., Antarctica, Mauritania, Iceland, Costa Rica). In 2002, he participated in the NASA flight to study the Leonid Meteor Shower. He is co-I in NASA-MSL (rover Curiosity), ESA-ExoMars and NASA-Mars2020, and in 2016 and 2017, he was instructor of ESA astronauts in the PANGAEA program (Lanzarote and Chinijo Islands UNESCO Global Geopark). He has published eight books and more than 200 articles (Science, Nature, Geology, etc.). He was a Former Member of the UN ECOSOC Committee on Natural Resources, Ex-ViceChair of the UNCSTD and Ex-Chair of IUGS-COGE (Commission on Geoscience Education, Training and Technology Transfer). He is an OC Member of the IAU Astrobiology Commission and member of the Inter-Commission C1-F2-F3-H2 WG Education and Training in Astrobiology. Co-founder and President of the International Association for Geoethics (IAGETH). He is the Editor-in-Chief of the journal Geosciences (MDPI) and co-editor of the Springer Book Series: Geoheritage, Geoparks and Geotourism. He has received several awards and recognitions (i.e., NASA, ESA, GSAf (Goodwill Ambassador), ArabGU, Spanish Association of Scientists).
Conference Secretariat
Ms. Alma Wu; Ms. Daisy Hu
E-Mail: iecg2018@mdpi.com
Sponsoring Opportunities
For information regarding sponsoring opportunities, please contact Ms. Daisy Hu; Ms. Alma Wu.

E-Mail: iecg2018@mdpi.com